Warranty Registration
Register Now
Register to activate your lifetime warranty

Congratulations on your recent purchase of a genuine Decastone® Quartz product! You've made a great choice and we know you are going to be thrilled with your Decastone product for many years to come!
Now it's time to register your purchase in order to activate your limited lifetime warranty. Once your new Decastone product has been installed, you must register it within thirty (30) days in order to activate the warranty. Simply print and complete the Limited Lifetime Warranty form  and mail it with your proof of purchase (a copy of your original invoice showing the name of the owner, authorized dealer and fabricator) to:
Decastone® | Warranty Registration | 875 Holly Lane | Plantation, FL 33317
Make sure you sign the form at the bottom right. Upon receipt of the completed form and your original invoice (showing the name of the owner, authorized dealer and fabricator), your warranty will be fully registered and activated.
For more information about your warranty, visit https://www.decastone.com/our-lifetime-warranty/
Click on the image below to pull up the form pdf.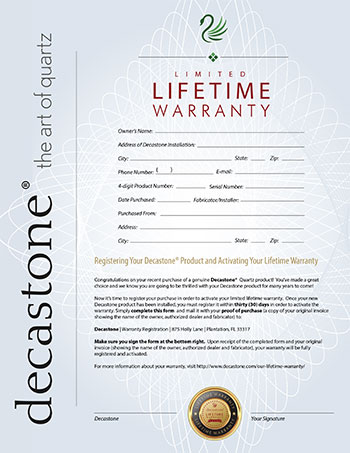 You are going to like Decastone®
We guarantee it. We are so confident in the quality of Decastone,® we are proud to offer a lifetime limited non-transferable warranty for homeowners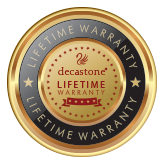 Artisanal quality, aggressive pricing with a lifetime warranty.