Contact Us
the art of quartz

By now you've heard a lot of great things about Decastone:  our amazing quality, our incredibly competitive pricing, and our best-in-class warranty.  If you're ready to talk to somebody about getting started with Decastone, we're standing by to hear from you!
Contact Our Sales Office
Decastone products are sold to the public through authorized distributors.  For pricing and sales information, please contact the distributor closest to you:
1.  Colorstone
7821 NW 62nd St.
Miami, Fl 33166
305-436-8056
sales@colorstonegranite.com
www.colorstonegranite.com
Contact Decastone Corporate
To contact a representative from our Corporate office, please call us toll-free between 8:00 am to 6:00 pm, EST, Monday – Friday at
888.332.2443
888.DECA.443
e-Mail Decastone Corporate
We love hearing from our friends, but not so much from the spam robots. To send us a private mail, simply fill out the form below. This is a secure form, so be sure to fill out the simple "Captcha" arithmetric. It sounds silly, but this is how our system differentiates between mails sent by humans and mails sent by nasty spam robots. Thanks for mailing us, and thanks again for visiting Decastone!
You are going to like Decastone®
We guarantee it. We are so confident in the quality of Decastone,® we are proud to offer a lifetime limited non-transferable warranty for homeowners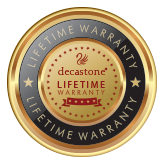 Artisanal quality, aggressive pricing with a lifetime warranty.