The Art of Quartz
About Decastone

Why do discerning homeowners choose Decastone® quartz over our competition? Perhaps it's because of the sophistication, elegance and beauty we engineer into all our products. Or perhaps homeowners are impressed with the advanced technology we put into our state-of-the-art manufacturing facilities. Or perhaps it's because of the artful way we balance that technology with old-world artisanal craftsmanship to create a product completely unrivaled in the industry.
Maybe homeowners understand that our quartz is scratch resistant, stain resistant, heat resistant, crack resistant, and non-absorbent and non-porous. All that makes us really easy to maintain — no sealing required ever.
Or — maybe homeowners realize we have a very aggressive pricing structure which makes us the best value in the industry.
We like to think it's because of all of that. We have a word for that unique combination of beauty, technology, craftsmanship and value. We call it artistry. We put that artistry into everything we do, to create an outstanding product that offers decades of value, performance and enjoyment. That is the art of quartz.
And there's more. We guarantee our products. For life
You are going to like Decastone®
We guarantee it. We are so confident in the quality of Decastone,® we are proud to offer a lifetime limited non-transferable warranty for homeowners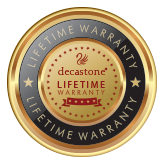 Artisanal quality, aggressive pricing with a lifetime warranty.